Hexerei
3D tracking system for quantitative biology.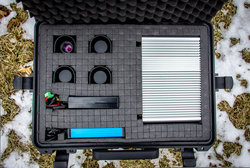 Hexerei is a camera based real-time 3D tracking system for quantitative biology. If you need to measure the 3D position of one or more animals or objects, without affixing markers or disturbing the animals in any way, then Hexerei is perfect for you.
Hexerei is supplied as a complete system, hardware, software and cameras are included, and each system is built according to your research needs including the customization of;
The number of cameras. Hexerei supports between 2 and 6 cameras allowing it to cover larger assay sizes.
The frame-rate. The actual frame-rate depends on the number of objects, cameras and framerate, however 5-10 objects at megapixel resolution is normal.
The detection of your animals. Hexerei is built on the same foundations as Loopy, which means completely customizable object detection is natively supported.